Presenting Charlie Brear's #FridayBridE Erin
The thought of wedding dress shopping can feel overwhelming, but as this week's bride Erin candidly relays, embrace the experience with an open mind and leave all preconceptions at the door.
She and groom Neil organised a Cotswolds wedding that was relaxed, picturesque and above all, memorable – thanks in part to their venue hosting the country's largest indoor BBQ.
Erin said 'I do' sporting the beautiful iconics collection gown and dazzling shoes that she'll get to dance in again and again. Read on to discover the nuggets of wisdom she gleamed during their year-long preparations, and how she found the perfect underpinnings for her backless dress.
Please can you describe the style of your wedding
It was relaxed and rustic – everything we wanted it to be.
Where did you purchase your dress & why?
I got it from the Charlie Brear Studio in London as it came highly recommended from a fellow bride.
What was your best experience when trying on dresses?
I was really nervous about dress shopping - despite having a clear vision of what I wanted - as I find normal clothes shopping a little stressful. The best bit was that I was pleasantly surprised by the whole experience and at Charlie Brear, my vision went completely out of the window and I ended up going for something I never imagined I could or would wear.
When and where did your husband propose to you? Did he have a ring ready?
Neil proposed whilst we were on holiday in Switzerland. I was really not expecting it as my best friend had got engaged a week before, so much so that when we got to where Neil actually proposed I got out of the car and said: 'How funny would it be if you proposed up here?'. We were on the side of a mountain at sunset under the premise that Neil was taking pictures of the view. He gave me a 'late anniversary present' which was a scrapbook he'd made of our six years together, filled with photos and tickets etc… then in the end he'd written 'our future…' and he'd stuck the ring bag in the back of the book. I panicked somewhat and just kept pressing the ring bag to see if there was actually a ring in it! He asked me if I was going to open it but I said no, I was too scared! I eventually did and neither of us can really remember what was said after that apart from him asking to marry me and me saying 'of course' and there being lots of tears (happy ones!).
What would your advice be to other brides about shopping for a wedding dress?
To not worry too much about the whole process. As I said, I went into it very apprehensive that it would be like a normal changing room experience, but I was pleasantly surprised by how relaxing and non-pushy the whole experience was. There was no expectation whatsoever to buy and just a lot of support in making a big decision. I would also say, try and be practical when choosing a gown; I absolutely fell in love my dress and ignored the practicalities of underwear and then spent the last four weeks trying to find the right thing to go underneath!
How long did it take to plan your wedding?
From engagement to wedding day was just over one year.
How did you feel after you had ordered your dress?
So excited, it was such a different style to anything I'd worn before and I couldn't wait to wear it on the day and see everyone's reactions including Neil's!
What shoes did you wear?
The shoes were the first thing I bought a week after getting engaged! I worked at Kurt Geiger at the time and had had my eye on a really jazzy style from the brand's Bond range. There were blue-green sequins on the toes and black and white striped heels. I've always loved shoes and knew I wanted something flashy on the day.
Did you struggle finding the right lingerie that worked with your dress, if so would you recommend anything for future brides?
Absolutely! As I already mentioned, I fell in love with my dress and completely forgot about practicalities. It was only when I got to the first fitting with the alterations company that I'd really not thought through what to wear with a backless dress! After a few tears and many trials and tribulations with different bra options I went for Magic Body Lift Its - Silicone Cups and a lot of Secret Tape from Boux Avenue.
What Traditions did you follow? Something borrowed, something blue or not seeing each other until the ceremony for example.
We've never been that traditional as a couple, but we stuck to not seeing each other the night before and I had the something blue as my shoes and something borrowed was a necklace from my Grandma who'd passed away earlier on this year. Something new was the dress and the shoes.

Who did your hair & make-up and how did you find them?
I had a wonderful girl called Evie Smith, who I found online. She was fabulous and did a brilliant job.
.Where and when did you get married?
We got married on September 16, 2017 in Stone Barn in the Cotswolds.
What was the funniest moment of the day?
Probably when Neil ruined the whole point of the best man's speech by talking about 'the incident' in his own speech (he was pre-empting the embarrassing story about me fancying a mutual friend of theirs when I first met Neil).
Did your wedding have any quirky or unusual features?
The venue was probably one of the most unusual features about it, with Britain's largest indoor BBQ and the fact that our meal took place in the old cowshed attached to the barn.
Who took your fabulous wedding pictures?
Our pictures were taken by the wonderful Robin Bradshaw of Bullit Photography. He was very relaxed and unintrusive the whole day.
How did you feel walking down the aisle?
I expected to feel far more nervous than I actually did, but I had a bit of a wobble when the barn doors opened and I saw a mass of people craning round the corner and all the phones and cameras to take pictures. I squeezed my Dad's arm as we got into the room and said I was scared, but he told me to stop being silly and walk slower!
TAKE 5 WITH THIS WEEK'S #FRIDAYBRIDE
Try to remember it's yours and your future husband's day; it's amazing how many people have an opinion on what you 'should' be doing.
Don't sweat the small stuff, like little details. Enjoy doing them, but always remember people are there to see you and won't notice anything if it's not there.
Enjoy the planning process and being engaged, it's easy to forget why you're doing what you're doing.
Don't underestimate how much you have to do and plan your time wisely. We were crazy busy about two weeks before our wedding, but it meant that the week of our wedding most things were done and we were able to relax and not be too exhausted on the day itself.
If you could do it all again what would you do differently?
The only thing we would do differently is to be a guest at our own wedding! There's lots of pictures of different groups of people from our wedding and it looks like they're at a really good party that we weren't aware of… even though we were somewhere else having a great time.
Where did you go for your honeymoon?
We went on a mini moon to Scotland for a week immediately after, staying in a dinky, completely isolated cottage with no internet or phone reception. We're now starting to plan a three-week trip to the US next year comprising a road trip down the Pacific Coast from San Francisco to LA, Las Vegas and Napa Valley.
Did you find organising your wedding an easy process? What parts were easy, what parts were trickier?
Overall the planning was fine; getting started initially was a bit daunting and overwhelming, but once we got into it, the big things were ticked off fairly quickly. It was towards the end with all the little things left to do that I started to panic, but we wrote up a list and pinned it to the wall and gave ourselves deadlines which helped a lot. The hardest part was the table plan! We had two trestle tables so had a lot of decisions to make about sitting people next to people they didn't know whilst still making sure they had a fun day.
What will you do with your dress now?
It's just been sent off to be cleaned and boxed and then tucked away and then maybe if we're lucky to have children one day, made into a christening gown.
What are you and your husband's best memories of the day?
Seeing all our friends and family all together in one place, lined up for the confetti throwing and seeing all our guests outside the wedding venue when we were taken away for photographs. Going crazy on the dance floor when our favourite song by John Farnham was played by the DJ.
Rings: Channings in Hatton Garden
Music: Johnty Mongan - Acoustic Guitar during reception and DJ during the evening
Caterer: Venue
Cake supplier: Venue
Erin WAS A VISION IN a Iconic Bridal collection dress
Browse our Bridal Iconic Collection to find a style like Erin's dress and see many more options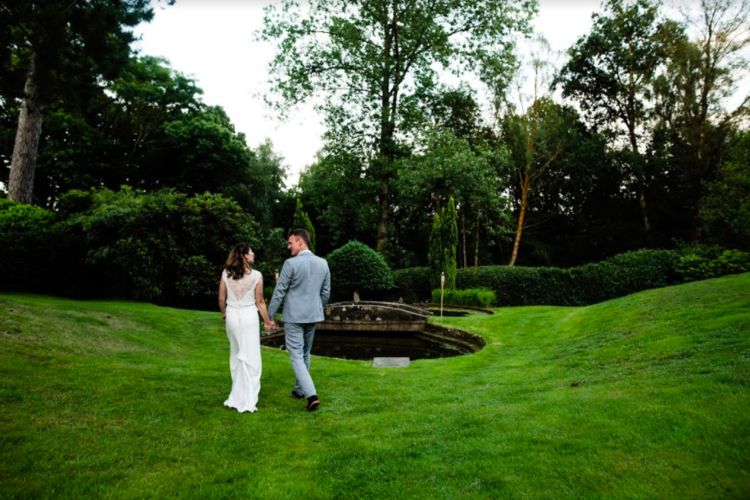 Did you catch last week's friday bride, Kitty?
Our cool bride walked down the aisle in an Iconic Collection dress