Presenting Charlie Brear's #FridayBridE kitty
Can you find 'the one' in less than an hour? Where a dress is concerned, this week's bride confirms that it's definitely possible. Kitty wowed in a Payton gown she discovered at a Charlie Brear sample sale - a calm and organised event that took her pleasantly by surprise.
With the biggest component of the day sorted, knuckling down to lots of wedding DIY felt much more manageable for Kitty. Prepare to be wowed by hers and Rob's garden wedding – a chic, beautifully styled affair featuring hundreds of flowers homegrown especially for the occasion.
Kitty and Rob hired Lee Meek Photography to capture the memories they'll cherish forever.
Please can you describe the style of your wedding for us.
We were really lucky to be able to get married in my parents' very beautiful garden, which my Dad has worked hard over the years to maintain. It was a huge honour and very special for us. We wanted the day to feel informal and relaxed - just a lovely party in the garden. It was very much a homemade wedding and we did lots of things ourselves, including all of the flowers and decorations. My wonderful mum grew hundreds of sweet peas and garden flowers for us to use, which was amazing!
Where did you purchase your dress & why?
At the Charlie Brear flagship store during a sample sale. As I wanted something informal and relaxed to fit with the garden setting, I was considering a nice dress from the high street. However, before I'd managed to get to the shops I spotted the Charlie Brear sample sale advertised and thought it would be fun to go along. I managed to get the last tickets for the first day of the sale and invited my Mum to join me.
What was your best experience when trying on dresses?
I hadn't looked at any dresses before the sample sale, so only had the one experience and it really was perfect! At the sale you get an hour's slot along with 10 other people. You can bring one female guest and are advised that there won't be any changing rooms due to the number of people. If you like a dress, you need to decide within the hour and buy it there and then. My Mum and I didn't know what to expect - whether it would be a mad rush to find the best dresses, but it was really enjoyable and not at all stressful.
There are lots of stylists on hand and we were greeted by Hannah, who was so helpful. I tried three dresses, all of which were lovely, but not quite right. One of the stylists found a Payton in my size and when I tried it on, my Mum and I sort of grinned at each other and I pretty much knew instantly it was right - even though I was still wearing my winter boots and thick black tights underneath the dress!
It was a bit nerve-wracking making a decision on the dress immediately, especially as I hadn't been to any other shops. But the cut was so flattering and part of me felt like it was all meant to be. It was also a great saving buying it in the sale. In a weird way buying it so quickly actually made the process more relaxing, as I'd been dreading traipsing around loads of shops. So we went for it! My mum and I then took my dress to dinner with us at the Charlotte Street Hotel and kept squealing at each other in excitement over glasses of champagne
When and where did your husband propose to you? Did he have a ring ready?
Rob proposed at the top of a large hill in Argyle in Scotland, where his parents live. I complained the whole way up that it was really hard work climbing it, as the ground was really boggy. When I eventually made it to the top to see the beautiful views of the loch below, Rob proceeded to take something from his pocket – which I thought might be a bar of chocolate as a treat for making it to the top. In fact it was a beautiful solitaire oval diamond ring, which he'd designed himself and had made in Hatton Garden.

What would your advice be to other brides about shopping for a wedding dress?
I would definitely say give sample sales a go – especially if you don't have a fixed idea of what you're after. Like me, you might end up finding your dream dress in less than an hour!
How long did it take to plan your wedding?
We booked all the big logistical things like the tent, caterers and celebrant about 18 months before. We then had a break whilst we moved house and did the rest of the planning in the six months leading up to the day.
How did you feel after you had ordered your dress?
Buying my dress at the sample sale was so exhilarating that I was absolutely buzzing and couldn't sleep that night! I just couldn't believe we'd found such a gorgeous dress on our first attempt and managed to get something so beautiful in a sale. I also wore a Catroux jacket and beaded belt, which were both also in the sale.
What shoes did you wear?
As we were outside on grass I wanted a block heel – something fun that I'd be able to wear again. I fell in love with the sparkly heel on these Russell and Bromley sandals, the heel is encrusted in pink and silver glitter and felt like something I'd remember wearing when I think back to my wedding as an old lady.
Did you struggle finding the right lingerie that worked with your dress, if so would you recommend anything for future brides?
It was quite tricky and I did consider having cups sewn into the dress, but in the end I went with the Fashion Forms Go Bare Backless Strapless Bra that I found at John Lewis – it stayed in place all day, despite me hardly leaving the dancefloor! Bottoms wise I went for a Spanx thong, which gave enough support around the middle, but didn't feel too bulky.
What traditions did you follow? Something borrowed, something blue or not seeing each other until the ceremony for example.
The day wasn't particularly traditional, but we followed several customs which felt right to us. As the wedding was at home Rob and I stayed there together the evening before and as there was still plenty to do on the morning of the wedding, we saw each other up until the last minute when I put my dress on. My Dad walked me down the through the garden to the ceremony with my bridesmaids.
Who did your hair & make-up and how did you find them?
I did my make-up myself, as I've always loved make up and knew I'd enjoy the process of buying new products and the ritual of doing it on the day. I watched lots of YouTube tutorials in preparation and really recommend Lisa Eldridge and Pixie Woo.
For hair, the lovely Emma LeBonne and Zoe Kramer, who I found through Claire Wallace Hairdressing, did a great job on mine, my Mum and the bridesmaids.
Where and when did you get married?
July 2016. We did the legal bit at Islington Town Hall the week before, then had our wedding in the garden of the family home my parents have had for 20 years.
What was the funniest moment of the day?
The speeches were absolutely fantastic and so funny! Rob, my Dad and Dave, the best man, had us all in stiches. The ceremony was also very light hearted and funny – as Zena, our wonderful celebrant, recounted the story of how we met.
Did your wedding have any quirky or unusual features?
The ceremony was held in a secret alcove in the garden and officiated by the absolutely lovely Zena Birch, who is a humanist celebrant. Zena wrote the ceremony based on stories we had shared with her about our lives and how we met. It felt incredibly personal and very special. We had a BBQ for the wedding breakfast, which we felt fitted well with the style of the day.
Who took your fabulous wedding pictures?
Lee Meek - he was brilliant and we honestly hardly noticed he was there most of the time. Neither of us particularly like having our photograph taken, but Lee was so inconspicuous and discreet and many of our guests commented that they felt very relaxed around him.
How did you feel walking down the aisle?
Brilliant! I'd said to myself beforehand that I really wanted to hold it together when walking down the aisle, as I was concerned I'd feel quite emotional and I really wanted to enjoy the moment. However on the day I wasn't at all tearful or nervous. I was just really excited and kept grinning and doing little waves to people to everyone!
TAKE 5 WITH THIS WEEK'S #FRIDAYBRIDE
Everyone says it, but I'll say it again – when it comes to the day, just relax and try to enjoy and take in every moment, but understand that you can't pause time and no matter what you do, it'll still feel like a blur. The next day we felt so overwhelmed by what an amazing day it was, with all of our loved ones around us. You just want to turn back time and do it all again. But as Rob wisely said, the reason the day is so poignant is that the moment is fleeting, which makes it all the more precious.
DIY – if you're making anything yourself try not to leave it until the last minute. I had the week off work before the wedding and thought I could do everything the, but things take so much longer than you expect and it ended up being quite a lot of pressure to get everything finished in time.
Lists – I'm a PA and I love a good to-do list, but you really do need one when planning a wedding! It can be quite daunting to think about everything you've got to do, so write it all down and then each week decide on a few things you're going to get done.
If you can, have some of the day filmed. Lee recorded the sound for the speeches and made an amazing photofilm for us, which is so lovely and watching it takes you straight back to the day.
Ask for help! People love to get involved and will be honoured to be asked. In the week running up to the wedding you couldn't visit our home and not suddenly have a job handed to you! We honestly couldn't have pulled it off without everyone's help and support.
If you could do it all again what would you do differently?
Maybe put my dress on as soon as I got up at 6am, so that I could have worn it for a few more hours!
Where did you go for your honeymoon?
We went on a mini break to the Cotswolds for two nights and then went to the Maldives in the winter.
Did you find organising your wedding an easy process? What parts were easy, what parts were trickier?
I was lucky that finding my dress was so easy. I was a bit worried that it might take ages, so it was such a relief.
I am pretty organised, so I wasn't worried and just worked through our to-do list in bite-sized chunks. It does take a lot of time to find suppliers on the internet, as there are so many out there, so if you have recommendations from friends that's always a good start.
The trickiest part was probably the week before. If you're doing a lot yourself, don't underestimate the time it will take to get things done. We roped in family, friends and neighbours to help us, but it was still a bit nail biting and the pressure was on to get everything set up in time. We saved a lot of money and really enjoyed doing the flowers ourselves, but it certainly was a big job.
What will you do with your dress now?
I can't bear the thought of not wearing my dress again, so I think I might get a professional to dye it another colour and cut the train off, so that I can wear it as an evening dress. Hopefully someone will invite me to a black tie event, otherwise I'll definitely organise a wedding dress party with my mates!
What are you and your husband's best memories of the day?
The setting of the ceremony has to be my favourite part. It was in a small clearing among the trees with wooden benches for the guests. The branches of the tall trees were decorated with paper pom poms, so it looked beautiful and felt very secluded.
Rob: Kitty arrived looking incredible and beaming from ear to ear. The guests were sat around us in an arc - it was quite intense being in that place with everyone we love sat around us. The readings were amazing - each one a surprise, chosen by the reader for us. My sister's reading was very emotional as she recounted events from our childhood. And then at the end, everyone sang and looked so happy in the sunshine. An amazing moment that I'll never forget.

SUPPLIERS
Ceremony and reception venue: Family home with a beautiful canvas pole tent provided by LP Bohemia
Bridesmaids' dresses: Monsoon, Cos, Needle and Thread, Debenhams and Miss Selfridge
Rings: Hatton Garden
Music: My gorgeous friend Jennifer sang for us during the ceremony, Ela's Trio played during the reception and Tony from Diso Wed for the evening party
Transportation: Chris from Forest Cars taxied the guests to and from the village in his minibus
Kitty WAS A VISION IN a Iconic Bridal collection dress
Browse our Bridal Iconic Collection to find a style like Erin's dress and see many more options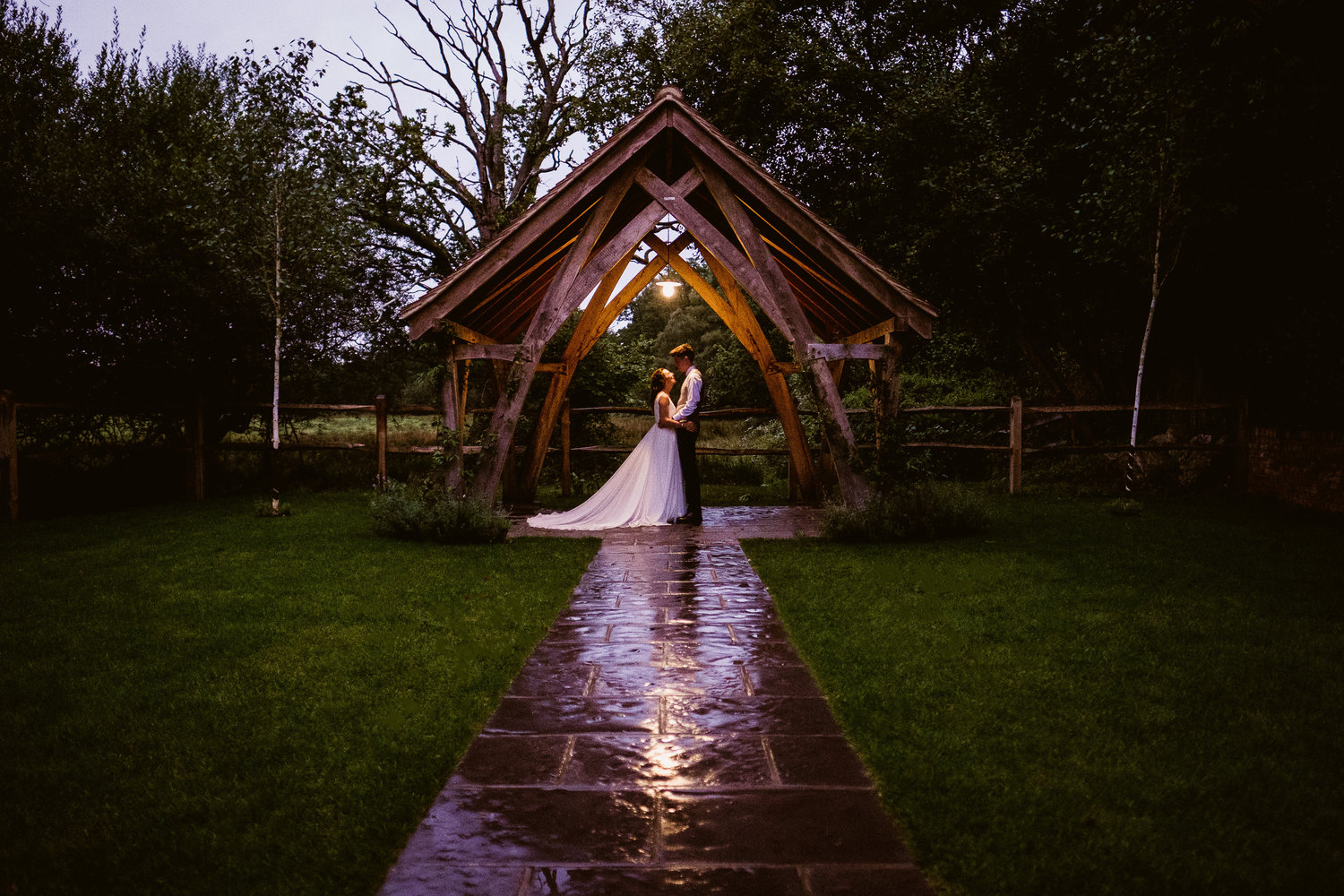 Did you catch last week's friday bride, CHRISTIANNA?
Our cool bride walked down the aisle in an Iconic Collection dress