Presenting Charlie Brear's #FridayBridE ALI
This week we are transported to Portland, Oregon, where an award-winning warehouse venue played host to Ali and Andrew's quirky but chic summer nuptials. The large, industrial space was the perfect backdrop for playful touches, such as doughnut and ice cream trucks instead of wedding cake and for Ali to don trainers post-ceremony. The couple infused their day with Jewish traditions and even got their grandparents in on tequila-fuelled dancing.
Read on to discover how Ali found her Charlie Brear Payton wedding dress.
And about the pact she and Andrew made to ensure they shared exactly the same experience of their big day…
Their day was captured beautifully by Melissa Marshall
Please describe the style of your wedding
Our wedding was industrial chic and a perfect combination of indoor and outdoor. For mid July, this is exactly what we wanted. The entire venue was a stark contrast between modern industrial warehouse and garden-style greenery. We made sure every element was unique, intentional, and "us".
When and where did your partner propose to you?
Andrew co-ordinated with my boss to scoop me up from work early on a Friday last summer (June 2016) with instructions to pack a weekend bag. We drove out to the Willamette Valley, Oregon's wine country. On Saturday, he planned a whole day of wine tasting and activities. The first tour was private and beautiful. He got down on one knee at the end of the tour when the two of us had a moment alone overlooking the vineyards. I'm so thankful he read what he wrote so that I could reread it again later. The actual moment is such a whirlwind that it is hard to remember a thing. It started raining and we started crying – and laughing and kissing, and it was perfect.
Which dress did you choose and why? And where did you buy it from?
I chose the Payton dress for its simplicity and elegance. After the traditional wedding shopping experience I was overwhelmed. When I walked into Alessandra Bridal, I finally saw an entire selection of dresses that spoke to me; dresses that were easy, flowing and gorgeous but so simple. That is how I was introduced to Charlie Brear. For the ceremony, I wore a Charlie Brear addition skirt overlay for something extra.
What would your advice be to other brides shopping for a wedding dress?
Some brides go into the wedding shopping experience and know exactly what they want. That wasn't me – I only knew what I didn't like. The advice I would offer would be to go with someone you trust and who is honest. Make sure you feel beautiful. A big one for me was also to make sure I could move in my dress! I've seen too many brides unable to sit down for dinner or have trouble on the dance floor.
How did you feel after you had ordered your dress?
After trying on the dress, I thought about it for a few weeks before ordering it. Since Alessandra Bridal is out of town for me, it was great to work with the boutique from afar to solidify details. Once I placed the order, it all suddenly felt very real. It finally hit me that we were getting married.
What shoes did you wear?
For the ceremony I wore white satin Nudistsong sandals from the Stuart Weitzman wedding collection. Immediately after, I changed into Nike white leather wedge dunks. It was one of the best decisions I made all night : )
Did you struggle finding the right lingerie that worked with your dress, if so would you recommend anything for future brides?
Yes, I did struggle with the correct lingerie! The slip dress style made it very hard to wear anything underneath, especially with an indoor/outdoor wedding where I had to consider every type of lighting. I ended up not wearing much – just a strapless nude bra by Nudwear. It was the only brand that didn't show through, but I would recommend extra adhesive…
Who did your hair & make-up and how did you find them?
Olivia Hawthorne and her team did our hair and make-up. She was amazing to work with and very talented.
Where and when did you get married?
Andrew and I got married in Portland, OR at Castaway on July 15, 2017.
How did you feel walking down the aisle?
I felt excited, so happy, and of course – a little nervous!
What traditions did you follow?
We added Jewish elements to our wedding with a beautiful Ketubah signing with our closest family and friends before the ceremony. We also danced the horah – and I seriously almost fell off the chair in the air!
Did your wedding have any quirky or unusual features?
Instead of a traditional wedding cake, we had three dessert food trucks come to our wedding. We did mini doughnuts, fruit infused ice cream, and s'mores. It was delicious and so much fun!
What was the funniest moment of the day?
Definitely watching my grandpa take a big tequila shot with all of us then show off his 'moves' on the dance floor.
Who took your wedding pictures?
Mellisa Marshall – and she is amazing, talented, and a dream to work with. I cannot say enough great things about her!
If you could do it all again, would you do anything differently?
Nope, not a thing. OK…I'd choose slightly more comfortable heels.
Did you find organising your wedding an easy process? What parts were easy and what parts were trickier?
Luckily, Andrew and I are both very organised and love to plan. This made the planning process enjoyable for us. We also did it together and I absolutely loved that. I'm not sure I would have planned the wedding without him. That said, it wasn't all easy: our struggle was the first step – figuring out the finances and family dynamics. After that, we really ran with it.
What will you do with your dress now?
It's been cleaned and is currently hanging in my closet. The dry cleaner did mention it was one of the dirtier dresses she had seen, but in my opinion, that just means I had a really fun night! I'm not sure what the long-term plan for my dress is quite yet.
What are you and your husband's best memories of the day?
We made a pact to not separate ourselves on the day. Of course, our mornings were apart, but from our 'first look' on we stuck together. We are so happy we did! Now all of our memories are the same, and together. Among countless, our best memory was taking a moment to look around during the best night of our lives to see ourselves surrounded by all of our people. It was magic.
TAKE 5 WITH THIS WEEK'S #FRIDAYBRIDE Ali
Enjoy the process! You only get to do this once and it should be fun. Once it's over, it's over.
Finalise all your details in advance so that your wedding week can really be about you. Don't be scared to delegate. Whether it is a family member, a florist, or a caterer, everyone is there for you.
Once you get to your wedding weekend, your job is to enjoy it – that's it!
Love your photographer. Your photographer captures these most special moments forever.
Eat, drink, dance, and laugh literally all night long

SUPPLIERS
 
Charlie Brear Bridal Stockist - Bisou Bridal
Bridesmaids' dresses: They all picked their own!
Entertainment: DJ Nature
Transportation: EcoShuttle and Prestige Limousines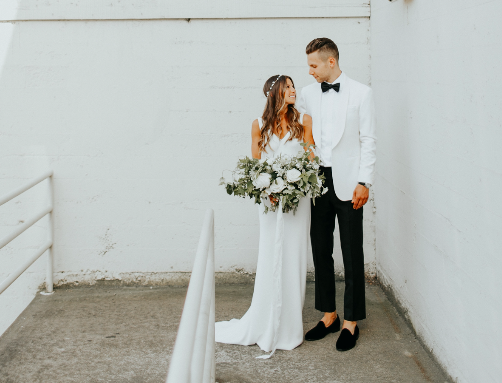 Ali WAS A VISION IN THE Payton dress
Browse our Bridal Iconic Collection to find Ali's dress and see many more options
Did you catch last week's friday bride, TAra?
Our cool bride walked down the aisle in the Torum dress from the Iconic Collection