Presenting Charlie Brear's #FridayBridE Tara
A London wedding full of character and charm. Our beautiful bride danced the night away in stylish shoes with her fabulous bridesmaids in tow. Tara and Nick's wedding at Islington Town Hall was captured by wedding photographer Nick Mangos.
Our beautiful bride wore the Torum dress, a perfect style for a contemporary stylish wedding.
Please describe the style of your wedding
London wedding!

When and where did your partner propose to you?
Nick proposed at St Pancras Station before surprising me with a trip to Paris! Very romantic and the BIGGEST surprise!
Which dress did you choose?
The Torum Dress
How was your experience shopping for your wedding dress?
I originally chose a dress months before the wedding....I then, with 6 weeks to go, realised it wasn't the one for me! The girls at Charlie Brear made the whole 'last minute dress shopping' so easy and I found the perfect dress on my first visit to the studio in Queens Park!
What would your advice be to other brides shopping for a wedding dress?
Enjoy it and don't rush into anything.
 
How did you feel after you had ordered your dress?
So excited! Couldn't wait to wear it!
 
What shoes did you wear?
I wore some very plain pale pink shoes from Dune! Dancing does!

Did you struggle finding the right lingerie that worked with your dress, if so would you recommend anything for future brides?
I got an amazing bra from The Pantry in Islington, it worked perfectly with the back of the dress.

Who did your hair & make-up and how did you find them?
I did my own make-up and one of the bridesmaid did my hair! I wanted to keep it all very natural and me.
 
Where and when did you get married?
We got married at Islington Town Hall in March.
How did you feel walking down the aisle?
Very excited! Couldn't stop the nervous laughter!
Did your wedding have any quirky or unusual features?
We had a band called the Brass Volcanoes! We saw them play back in December in Brixton and asked them on that night if they would play! They were amazing, they led everyone up the stairs and onto the dance floor!

Who took your wedding pictures?
One of our good friends Nick Mangos took our photos.
If you could do it all again, would you do anything differently?
I wouldn't change a thing! We loved every minute.

Did you find organising your wedding an easy process? What parts were easy and what parts were trickier?
I really enjoyed the whole process, Nick was amazing throughout, we definitely shared all the jobs which made it a lot easier.

SUPPLIERS
 
Photographer/Videographer - Nick Mangos
Shoes & Accessories- Dune
Bridesmaids' dresses- The bridesmaid chose their own dresses!
A mix of Whistles, ASOS and one of the girl's wedding dress shortened to the knee!
Florist- Our wonderful friend Emma!
Cake Supplier- One of the bridesmaids!
Transportation- London busses!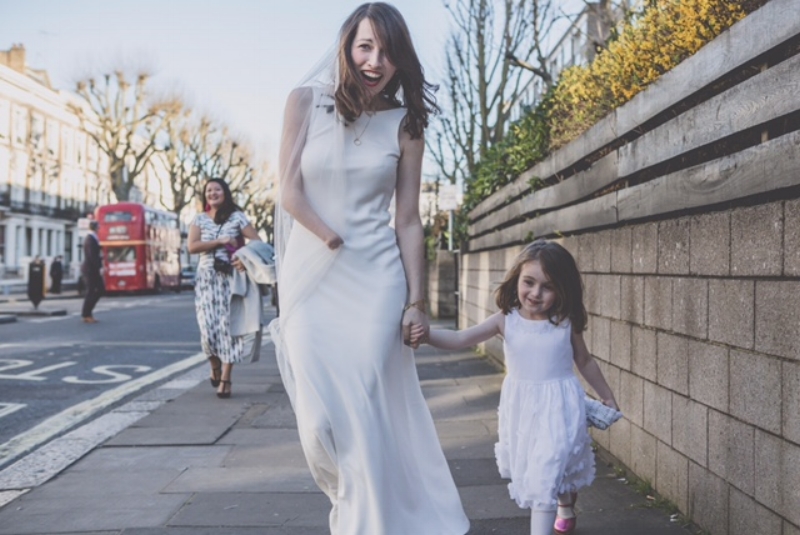 TARA WAS A VISION IN THE torum dress
Browse our Bridal Iconic Collection to find Tara's dress and see many more options
Did you catch last week's friday bride, TEss?
Our cool bride walked down the aisle in the Payton dress with our Voulaire overdress from the Iconic Collection