Presenting Charlie Brear's #FridayBridE Clare
A vintage, autumn wedding is not complete without the perfect timeless dress. This week's Friday Bride, Clare, chose the classic Payton dress and made it her own with the Catroux skirt and blush silk sash. Keep reading to find out about Clare's beautiful venue and wedding tips.
Please describe the style of your wedding
Simple, vintage inspired with autumnal colours, mixed metals and lots of foliage.
When and where did your partner propose to you?
He proposed at our local pub, and which is where we were both working when we fell in love. It was my 26th birthday, and the pub garden has the most incredible view across the Bath countryside. He had spent the previous six months convincing me and all my friends that he wasn't going to propose any time soon, but had actually called my Mum and my Grandad to ask for their blessing before he asked, which meant a lot to me.
Which dress did you choose and why? And where did you buy it from?
I chose the Payton Dress and Catroux Skirt in champagne with the Blush Silk Sash. I loved the timeless beauty of the skirt and dress combination, and liked the feeling that that combination was somehow quite unique to me. I bought the dress and sash from Perfect Day Bride in Bradford on Avon, where Kerry just could not have been more lovely. I tried on so many beautiful dresses, but as soon as I put on the Payton I knew it was the one. I bought the Catroux Skirt from a Charlie Brear sample sale.
How was your experience shopping for your wedding dress?
It was it easy, was it memorable, was it fun?, was the decision tough?) I bought my dress at the second shop that I went to, so I didn't have a hugely extensive dress shopping experience, but I still remember every single dress I tried on. At my first appointment, the stylist insisted on choosing dresses for me, which I didn't really like, and none of the dresses were right, but at Perfect Day I was given time to try on whatever I was drawn to. The feeling when I found the one was amazing.
What would your advice be to other brides shopping for a wedding dress?
Try to keep an open mind, but remember that this is your decision and yours only don't be too influenced by what your mum/sisters/friends/stylist have to say. At the end of the day, it's your dress and it has to be something you feel amazing in.
How did you feel after you had ordered your dress?
I felt a weird mixture of elated and nervous - it's a very big decision!
What shoes did you wear?
I wore the Daisy by Harriet Wilde - they are ivory kidskin with a pointed toe and lace upper.
Did you struggle finding the right lingerie that worked with your dress, if so would you recommend anything for future brides?
It was quite difficult, but luckily my seamstress had worked with Charlie Brear slips before, and recommended some Maidenform shorties, which were totally invisible. I wore one of those drawstring stick on bras that are advertised everywhere at the moment - it actually did a pretty good job!
Who did your hair & make-up and how did you find them?
I used a recommended hairdresser from our venue's list, and Claire from Peaches and Cream Cumbria was brilliant. She was so funny, and did a fab job. I wanted to keep things fairly natural, so she did some soft waves but made sure there was a bit of body to it. My sister, Chloe, did my make up, which was lovely.
Where and when did you get married?
We got married on 28th October at Askham Hall in The Lake District. We both love autumn, and the backdrop was incredible.
How did you feel walking down the aisle?
I felt bizarrely calm, everything just felt so right and I didn't mind being the centre of attention, which I normally hate!
What traditions did you follow? (Think something old, new, borrowed and blue.)
We sort of picked and chose from the usual wedding traditions. My Dad sadly passed away when I was 20, so my wonderful uncle gave me away, but I didn't want anyone else to do the Father of the Bride speech, so my mum did a speech instead. Phil and I made the only two other speeches. My Nan gave me the most beautiful watch to wear, the first thing she ever bought for herself, so that was my something old, I had a gazillion new things, I borrowed a spritz of perfume from my Auntie and my bridesmaids were my something blue.
Did your wedding have any quirky or unusual features?
We didn't have anything gimmicky, but everything felt like 'us'. Our little boy, who is just shy of three, handed over our rings before promptly falling fast asleep, and he was involved in most of the day.
What was the funniest moment of the day?
There were several comedy moments, including some fairly incredible dance moves, but the funniest moment has to be when Phil was making his speech and mentioned our son, Ezra, he shouted from across the room, "My daddy is talking about me!" It was a lovely moment.
Who took your wedding pictures?
The incredible Tori Hancock. We could not have wished for a better photographer she was everywhere at once, and she captured every important moment. It was amazing to relive the day when we got the photos through.
If you could do it all again, would you do anything differently?
I would definitely make sure I followed my plan for a make up and hair touch up after dinner. I completely forgot about it, and I probably could have done with it!
Did you find organising your wedding an easy process? What parts were easy and what parts were trickier?
To be honest, we were so lucky that all of the suppliers we chose. Some of the logistics took a bit of working out, but to be honest, the hardest part was the guest list and table plan. It was worth the hard work, though, as we saw so many people making new friends and really laughing together during the wedding breakfast.
What will you do with your dress now?
Just clean it and keep it, I think. I wouldn't want to modify it in any way, or sell it - it's too special to me. I might see if my husband fancies doing a re-enactment on our first wedding anniversary!
What are you and your husband's best memories of the day?
I think running, giggling through the confetti and seeing the speech getting a good reception were real highlights for me, but I think we would both say that moment when we were pronounced husband and wife. It's incredible, and still so clear in my mind.
TAKE 5 WITH THIS WEEK'S #FRIDAYBRIDE
Choose suppliers that you trust - they will be your closest allies.
Decide what's important to you early on - it helps you to keep things in perspective.
Expect one or two things not to go to plan - you will barely notice, as long as you're not stressing.
Try to steal a few moments with your groom to just look at each other and talk to
each other. You'll treasure those memories.
Be prepared for some sadness
afterwards - it's natural to feel a bit deflated, but being married is fantastic, and you'll have the memories of your day forever.
SUPPLIERS
Ceremony Venue - Askham Hall
Reception Venue- Askham Hall
Photographer/Videographer- Tori Hancock
Shoes & Accessories - Harriet Wilde (shoes), Victoria Fergusson (jewellery)
Bridesmaids dresses - Maids to Measure (Bridesmaids), Rewritten (Maid of Honour)
Rings -Goldsmiths
Florist - Made in Flowers
Entertainment - Agent Smith
Caterer - Venue catered
Cake Supplier -Mama Cakes Cumbria
Hair - Peaches & Cream Hair
Make-up - My sister did it!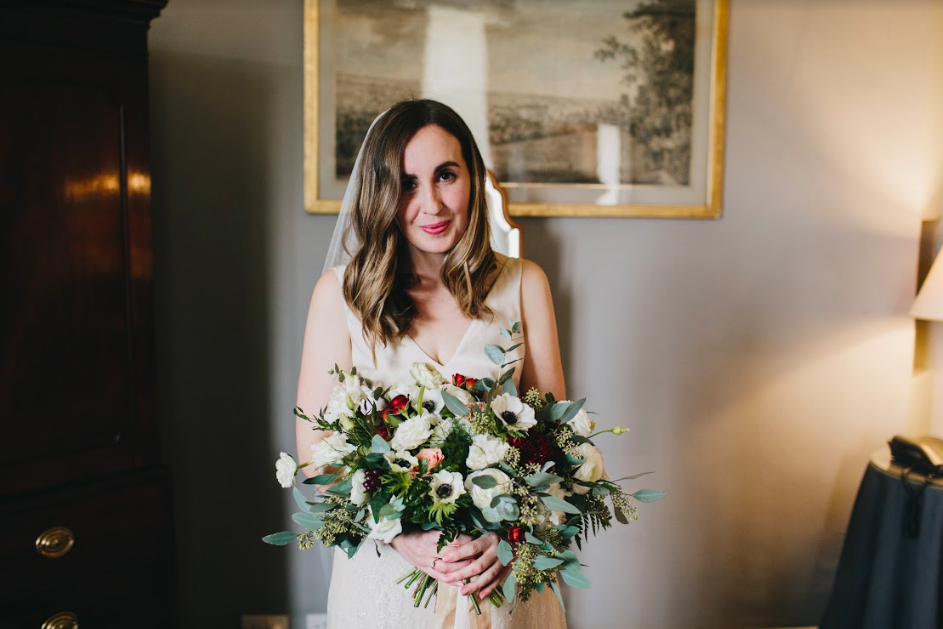 Clare WAS A VISION In a Mainline collection dress
browse our bridal collection to find a style like Clare's dress and see many more options
Did you catch last week's friday bride, SUSIE?
Our cool bride walked down the aisle in an Mainline Collection dress